Elm Tower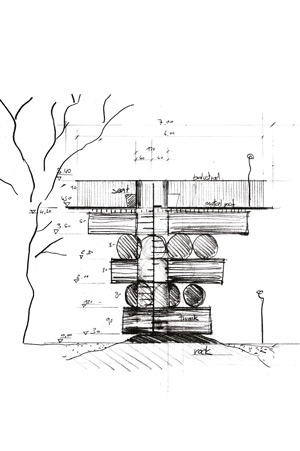 The Elm Tower is a sculpture at Djurgården National Park in Stockholm. In 2012 the team of Lies-Marie Hoffmann, Anna Tegeström Wolgers and Klemens Grund meet the National Park Administration and propose the idea of the project:
The majestic old elm trees are disappearing from the landscape because of the Dutch Elm Disease. We want to use the cut down elm tree trunks from the park and develop a space to convey an experience of nature beyond the ordinary. We create a sculpture where the unique qualities of the tree are protected.
The Elm Tower is an interactive sculpture with architectural trails. The magnificent elm logs are stacked into a monumental tower that widens towards the top, like a tree. Through a hollowed-out opening on ground level one reaches a staircase that leads up through the inside of the logs. Up on the roof one can sit and enjoy the view at the same time as the roof protects the logs from decay.
Anna Tegeström Wolgers is the project manager. Artist herself she works as a lecturer at various Universities, as a curator, art secretary and initiator of several exhibitions.
Lies-Marie and Klemens Grund develop the design of the sculpture. Klemens, architect and master carpenter, has been involved in various projects such as the Serpentine Gallery in London 2011 and Werkraum Haus Bregenzerwald in Austria while employed as an architect for Peter Zumthor in Chur, Switzerland. He established his own office for Crafts and Design in 2013 in Cologne, Germany.